Do you have a couple cans of black beans hanging out in the back of your pantry that have been collecting dust? It's time to brush them off and put them to good use in this spicy black bean soup! I pieced together this soup after I was feeling a bit frustrated from making yet a second batch of this pumpkin chocolate chip bread that turned out to be a flop. The first time, I pulled it out before it had a chance to cook all the way through (despite a clean toothpick test!), and the second time it stuck to the bottom of the loaf pan. Ugh. I don't do near as much baking these days as I used to… I must be losing my touch! I'm sure I'll have a chance to do some more practicing with the holiday season just around the corner.
This bean soup, on the other hand, turned out great! Canned beans and stewed tomatoes make the prep for this soup super easy. I wanted to make it a bit more interesting so I served this soup topped with sour cream, this homemade chimichurri, and a few slices of fried plantains. You can keep it simple with just sour cream and a few pieces of cilantro – or follow my lead. Either way, this soup is definitely delicious! It is just the right amount of spicy, hearty, chunky, creamy, and perfect for chilly fall evenings. This spicy black bean soup also happens to be vegan friendly as well and a great way to amp up the protein in your diet as each bowl offers up to 16 grams of plant-based protein.
Print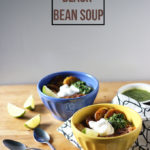 Spicy Black Bean Soup
Author:

Prep Time:

10 mins

Cook Time:

25 mins

Total Time:

35 mins

Yield:

5

Category:

Entree

Cuisine:

Vegan
---
Description
Put those cans of black beans that have been lingering in your pantry to good use in this vegan spicy black bean soup.
---
Ingredients
2 tablespoons olive oil
1/2 red onion, chopped
1/2 red bell pepper, chopped
1/2 green bell pepper, chopped
2 cloves garlic, minced
2 cups vegetable broth
2 (15.5 oz) cans black beans, drained and rinsed
1 (14.5 oz) can chopped tomatoes
2 tablespoons red wine vinegar
1 teaspoon oregano
1 teaspoon cumin
1/2 teaspoon cayenne pepper
Salt and Pepper to taste
---
Instructions
In a large dutch oven, heat oil, peppers, and onion over medium high heat for 5 minutes or until onion begins to soften and become translucent.
Add the garlic and sauté for another minute.
Add the broth, black beans, tomatoes, and red wine vinegar. Stir well and bring to a simmer.
Add the oregano, cumin, cayenne, salt and pepper. Allow soup to simmer for about 15 minutes or until vegetables are tender.
Portion out three cups worth of the soup into a food processor. Puree until smooth and stir back into the rest of the soup in the dutch oven.
Serve with fried plantains, sour cream, and/or chimichurri.
---
Nutrition
Serving Size:

1 Cup

Calories:

332 kcals

Sugar:

6.6 g

Sodium:

634 mg

Fat:

8 g

Saturated Fat:

1.2 g

Trans Fat:

0 g

Carbohydrates:

51 g

Fiber:

16.8 g

Protein:

16.5 g

Cholesterol:

0 mg